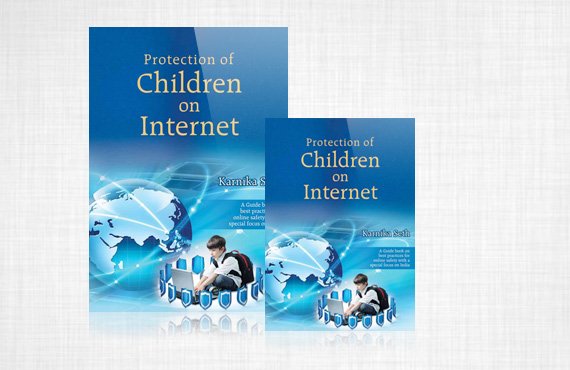 The book deals with the vital humanitarian subject of child protection on Internet.Authored by Karnika Seth, acclaimed cyberlaw expert & Educationist, the book is a simple guidebook that aims to provide useful information and tips to parents and children, educators, law enforcement, legislators, NGOs and ,International organizations and Governmental agencies, on how to safeguard children on the internet and combat online child abuse. The Author has very vividly used Illustrations, examples, case studies to explain various threats children face on Internet such as cyberbullying , cyber grooming and child pornography and from her practical experience shared valuable tips on how to prevent and combat threats children face online.The book discusses the existing Indian laws that protect children in cyberspace, particularly POCSO Act, 2012 and IT Act, 2000 and the National initiatives adopted in India to protect children from online abuse. The author draws examples from other countries such as US and Europe including U.K and initiatives made by International organizations to combat online child abuse.The Author has made some pertinent recommendations on various techno- legal and social measures that can be adopted for safeguarding children on Internet.
The book is written in a very simple manner with an easy glossary of important cyber terms for readers who may not be very familiar with technical jargon of cyberspace. The book will be of immense use to parents, educators, children, judiciary, lawyers, law firms, law libraries, Police, Investigation agencies, international organizations, Non governmental bodies, industry associations, ITES companies, IT Professionals and law students.
About the Author: Karnika Seth
Karnika Seth is a renowned Cyber Lawyer and Expert, and is the Managing Partner of Seth Associates, a law firm in India. She practices law at the Supreme Court of India and the Delhi High Court, and is advisor to many corporate houses and IT companies. Ms. Seth has been officially consulted by the Lok Sabha and the Ministry of Information Technology for her recommendations to develop cyber law in India. She is also a legal advisor to Office of Comptroller of Certifying Authorities under the IT Act, 2000. Ms. Seth has also actively resolved many cybercrime cases with the Indian law enforcement agencies. She is an active speaker on cyber law issues, both in print and electronic media, and delivers special lectures to judicial academies, police academies, Central Bureau of Investigation, senior government officers, industry associations, and corporate entities. She holds a Master's Degree in Corporate and Commercial Laws from the King's College, University of London. For authoring this book, Ms. Seth was awarded the Certificate of Honour by the Chief Justice of India on the occasion of Law Day in 2012.
Expert's Opinions/Reviews
"The book has extremely useful information which will be of immense benefit for all sections of people. This work is an apt and commendable contribution to surging child rights protection movement in India. It aims to bring pertinent cyber awareness on protection of children in cyberspace for the benefit of all sections of our society, be it children, parents, educators, legislators or law enforcement. The Author has written this work with great ingenuity to share her practical expertise on the subject. She creatively elucidates emerging cybercrimes targeting children such as sexual grooming, cyber pornography, vamping, Phishing, cyberbullying, sexting and makes valuable suggestions on best practices to safeguard children on internet and strategies to combat online child abuse. The extraordinary characteristics of this book include its immense practical utility, simple explanation of laws and policies, illustrative writing style, and precise & thoroughly researched content."
Dr. Gulshan Rai
Director General CERT, Ministry of IT
"This book is an excellent short and timely guide book on protecting children from cybercrimes written with special focus on Indian laws and policies. Ms. Seth has written the book with high degree of precision and simplicity. She has brought out her views and suggestions on how to protect children online. The book is expected to go a long way in the spread of cyber awareness which is very essential in the current digital age."
Dr. Govind
CEO, NIX!
"Ms. Seth's book is a unique endeavour that shows path to achieving freedom from online child abuse. Exploitation of children on internet is of communication. The book provides an insight into a socially relevant subject, which needs to be dealt with utmost care. This book is perhaps first book of its kind, which is focusing on online child protection. This book is a book for one and all."
Rajesh Chharia
special focus on India
President, ISPAI
"This book is a great step towards achieving that goal. Not only does it use a simple and easy to understand writing style but also the book lists the pragmatic aspects of law that may be used to protect our children/adolescents from pornography and cyberbullying. This book is recommended specially for first time parents, people with & without Law background, as well as technical and non technical background populace."
Dr. S.C. Vats
Chairman, Viyekananda Institute of Professional Studies
Details Of Book : Protection of Children on Internet
| | |
| --- | --- |
| Book: | Protection of Children on Internet |
| Author: | Karnika Seth |
| ISBN: | 9789350355565 |
| Format: | Paper Back |
| Year: | 2015 |
| Edition: | 2015 |
| Price: | ₹ 250 |
| Buy Now: | |